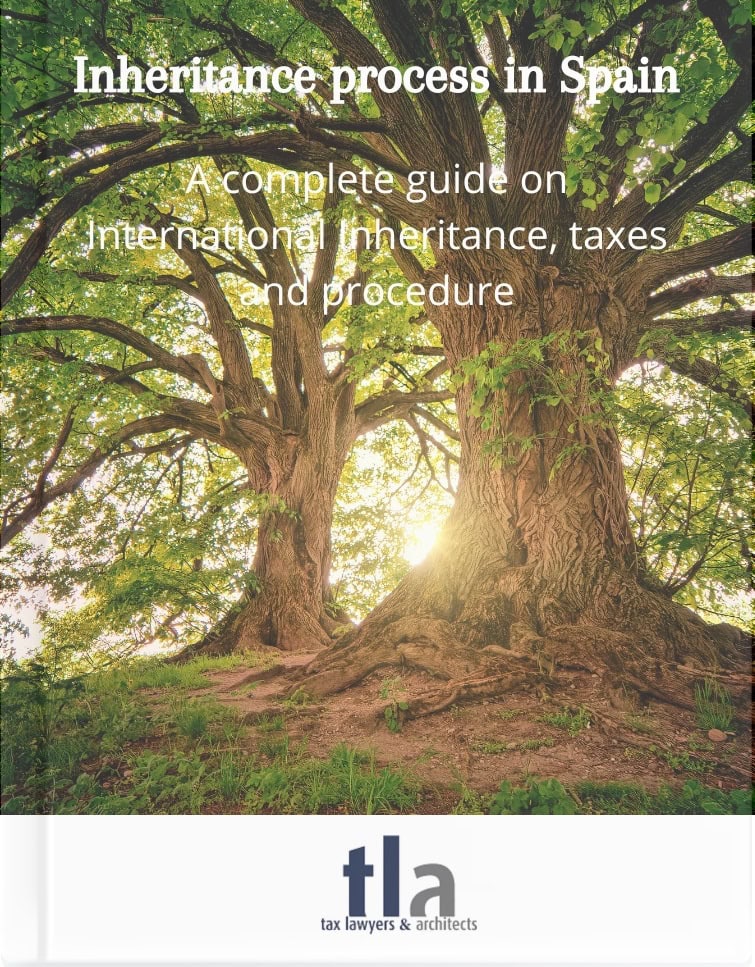 E-book essential to understand in a document the Inheritance  process in Spain, from a legal and tax point of view. 
This guide has been redacted by TLA registered lawyers and experts in both, Property and Construction Law, completed with a very detailed tax advice, and with more than 20 years in the legal and tax Spanish sector.
Process to follow in case of death in Spain?, How to execute a Will in Spain?, Obligatory Heirs?, whcih law to regulate my Spanish inheritance?, etc.
Other e-books and guides online might not offer as much as detailed content provided by this Manual, so we are convinced this will be your definitive one.
TABLE OF CONTENTS
1.- STEPS TO FOLLOW IN AN INHERITANCE PROCESS IN SPAIN
STEP ONE.- IDENTIFY THE ASSETS OF THE INHERITANCE
STEP TWO.- IDENTIFY WHICH LAW GOVERNS THE INHERITANCE. SPANISH LAWS, YOUR NATIONAL LAW?
STEP THREE.- LOCATE THE WILL. IS THERE A WILL?. EXECUTING A WILL-TESTAMENT IN SPAIN
There is a Spanish Will
There is not Spanish Will
Spanish Intestacy. There is not any Will at all
Executing a Will in Spain: How executing a Spanish Will
STEP FOUR.- CALCULATE SPANISH INHERITANCE TAX
Central Law in Madrid
Valencia Region
Murcia Region
Andalucia Region
STEP FIVE.- SPANISH INHERITANCE LAW. RULES OF SUCCESSION BY SPANISH LAWS
IS THERE AN OBLIGATION TO MAKE A WILL IN SPAIN WHEN BUYING A SPANISH PROPERTY?
SO, WHICH ARE THE ADVANTAGES TO MAKE A WILL IN SPAIN WHEN BUYING A PROPERTY?
2-. HOW EXECUTE AN INTERNATIONAL INHERITANCE IN SPAIN
3.- IMMEDIATE STEPS TO FOLLOW IN THE EVENT THAT SOMEONE DIES IN SPANISH TERRITORY
We are completely sure that you will find the necessary information to help you about the tax Spanish system in Spain.
The definitive e-Book to understand the Inheritance system in Spain, made by Internatioanl Inheritance Law and Tax specialists.
Just fill the form and and download the e-book, It's FREE (No cost).